Text | Shum Si
Photo | Hulu Culture, Shum Si, GRS
Lamma Island is the third largest island in Hong Kong, with an area of 13.55 square kilometres and a population of about 6,000.
The classical name for Lamma, Pok Liu Chau, was first seen in Dongguan xianzhi (Dongguan County Gazetteer). Compiled in 1464 (8th year, Tianshun reign) during the Ming dynasty, it was rendered as Polao , or "Rainy Moor"; the contemporary name appeared in later texts.
As for the romanised name Lamma (Nanya , "southern bifurcation/maiden"), one theory says that it came from the vernacular, and another believes it to be a British coinage. Both trace the etymology to the shape of the island, which resembles a forked branch (much like the Chinese character ya ), as well as the fact that the island sits in the southern end of Hong Kong.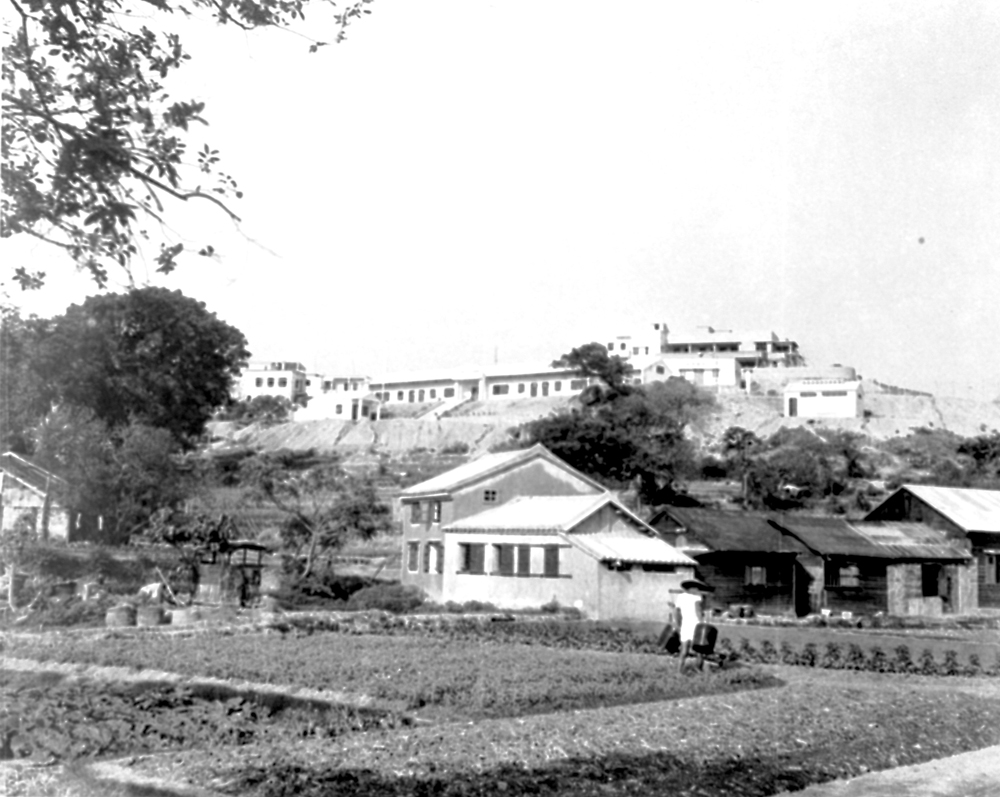 On Lamma Island in the early days, farming was many people's livelihood. Many locals grow vegetables for their livelihood.
The Xin'an xianzhi (Xin'an County Gazetteer, 1819) records that people surnamed Zhou had been leading the farms in the area during the early years of the Qianlong reign (r. 1735-1796).
There were 460 residents in Lamma when the New Territories was leased to the United Kingdom in 1898. In 1931, the population grew to more than 1,400.
In the past, Lamma's poor soil and lack of water meant that it could only carry a small population. Residents subsisted on agriculture and fishing, supplemented by light industries. The majority of the population lived in Yung Shue Wan ("Banyan Bay") to the north, Pak Kok ("North Point"), and Sok Kwu Wan in the middle. Sok Kwu Wan used to have a quarry, a cement factory, and a mosaic tiles factory. Nearby Tung O (and Yung Shue Long) also had a handful of residents.
In the 1960s, ferry piers were built at Sok Kwu Wan and Yung Shue Wan, with scheduled rides attracting many locals and foreigners to visit and live on the island. In 1982, the Hongkong Electric Company commissioned Lamma Power Station, recruiting many islanders in what is now the largest industry in Lamma.
As Lamma is close to the city and the ferry is easily accessible, the half-hour trip from Central or Aberdeen has made the island a popular destination for local and foreign visitors alike. You can experience the fishing culture and enjoy the scenery of Southern District on Hong Kong Island. In Yung Shue Wan, there are many boutique restaurants with European and Asian cuisines on offer, as well as bars and craft shops exuding exotic flavours. Sok Kwu Wan also boasts a variety of seafood restaurants.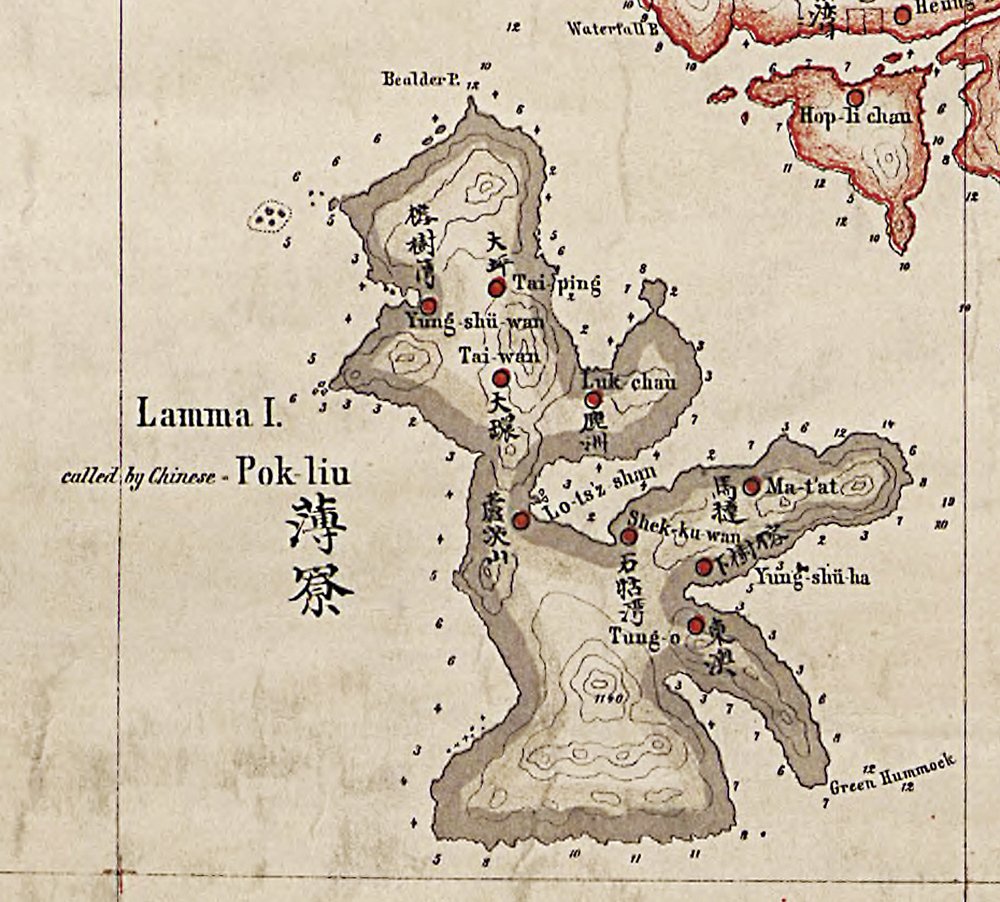 The old name of Lamma Island recorded in the map of"San On County".
Archaeological Remains
In the 1930s, Professor Joseph Shellshear (1885-1958) and Father Daniel Finn (18861936) drew international attention with their discovery of prehistoric archaeological sites in Tai Wan, Lamma. Afterwards, archaeologists discovered cultural relics spanning from the middle/late Neolithic to western Han dynasty (202 BC-8 AD) on Lamma, demonstrating that it was inhabited more than 5,000 years ago. In 1990, the archaeological team excavated the "national treasure" that was a Bronze Age stone yazhang , a tooth-shaped ritual implement at the Tai Wan site. It corroborated the existence of interaction between the first natives of Hong Kong and the central plains culture. Stone moulds for smelting and casting bronze axes were also unearthed in Sha Po village, demonstrating the mastery of bronze casting skills among the indigenous.
Lamma Island has fascinating natural scenery: a beautiful harbour.
Main Archaeological Site of Lamma
Mid-Neolithic (c. 4000 BC-2500 BC)
Tai Wan, Sham Wan, Lo So Shing ("Pandan City")
Late Neolithic (c. 2000 BC-1500 BC)
Sham Wan, Lo So Shing, Sha Po Village, Hung Shing Yeh Bay
Bronze Age (c.1500 BC-221 BC)
Sham Wan, Tai Wan, Yung Shue Wan, Lo So Shing
A Nesting Beach for Green Sea Turtles
Sham Wan is just a small beach in south Lamma, but it turns out that it has always been a nesting beach for the endangered green sea turtle on top of being a Neolithic archaeological site. The green sea turtle is the only sea turtle that breeds in Hong Kong, and they are known for natal homing: they will return to their birthplace to reproduce, however far they have roamed. Newspapers once reported sea turtle sightings in Lamma, but the injury wrought on the turtles and their eggs by people unaware of the need to protect them meant that nesting sightings ceased for a long time.
It was not until the early 1990s when a group of green sea turtles revisited Sham Wan to lay eggs. To protect them, the government listed Sham Wan as a Restricted Area in 1999, and no visitors were allowed to enter from June to October during green sea turtles' nesting season in an effort to reduce the nuisance to their nesting beach. The Agriculture, Fisheries and Conservation Department have been hatching green sea turtles artificially over the years, increasing their survival rate in the process.
Temples of Lamma Island
Sam San Kwok Wong ("Lords of the Three Mountains") Temple in Sha Po Village and Pak Kok Village
Hung Shing Hall, Tung Chung
Tin Hau Hall, Sok Kwu Wan
Tin Hau Temple, Luk Chau Tsuen
Tin Hau Temple, Yung Shue Wan
Intangible Cultural Heritage Items Declared by Lamma Island
"Lamma Island (North) Yu Lan Festival" (Haifeng/Lufeng or Hoklo traditions)
Sok Kwu Wan Tin Hau Festival (18th day, fourth Lunar month)
Sok Kwu Wan Jiao Festival
Luk Chau Tin Hau Festival (1st day, fifth Lunar month)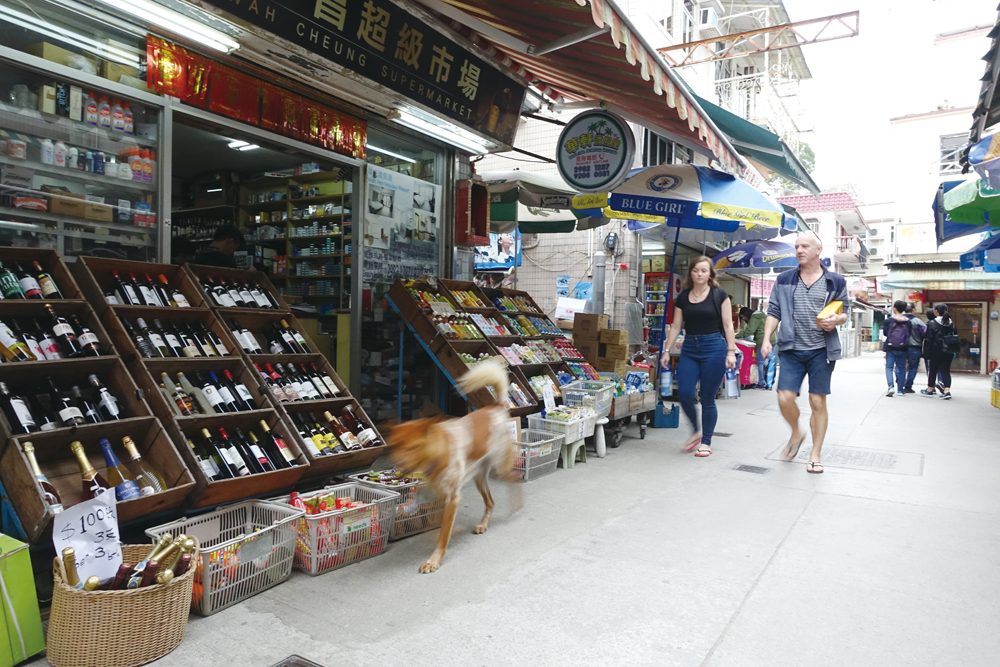 In the main street there are still many small simple local shops; chain stores of the city are rarely seen.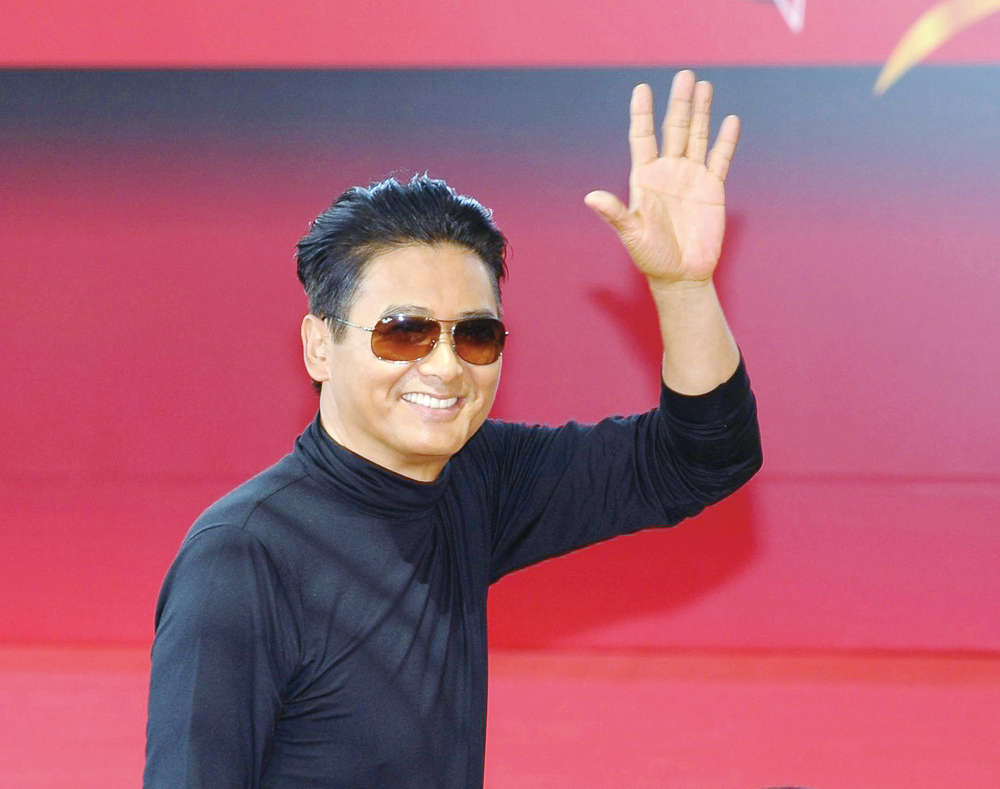 Chow Yun Fat, international movie star, is an indigenous inhabitant of Lamma Island.